Eastern Ornamental Aluminum Fence Replacement Parts
Despite Eastern Ornamental Aluminum fence offering a strong and secure connection between pickets and rails and being a top fence choice for many people, sometimes, parts may break or need a replacement after many years of use. When this is the case, even when looking through many sites, it isn't straightforward to find the parts you want. To add to more confusion, you'll need different parts for residential, ovation, and industrial fences from Eastern Ornamental. But not to fret, with this handy parts finder, you'll find all the fittings you need to secure your fence and keep it aesthetically pleasing.
Eastern Ornamental Aluminum Fence Residential Parts
Various rail end parts attach your rail to your post or attach your rail to a wall or post. For Eastern Ornamental fence, several parts will do this. Some of these rail brackets can swivel 180 degrees, while others do not move at all. They come in a black gloss finish to match your fence.
Selection of Rail Ends For Residential Fences
Eastern Ornamental Aluminum Ovation Parts
Just as there are residential fencing parts, if you have an Eastern Ornamental Ovation fence, there is a compatible rail bracket replacement part.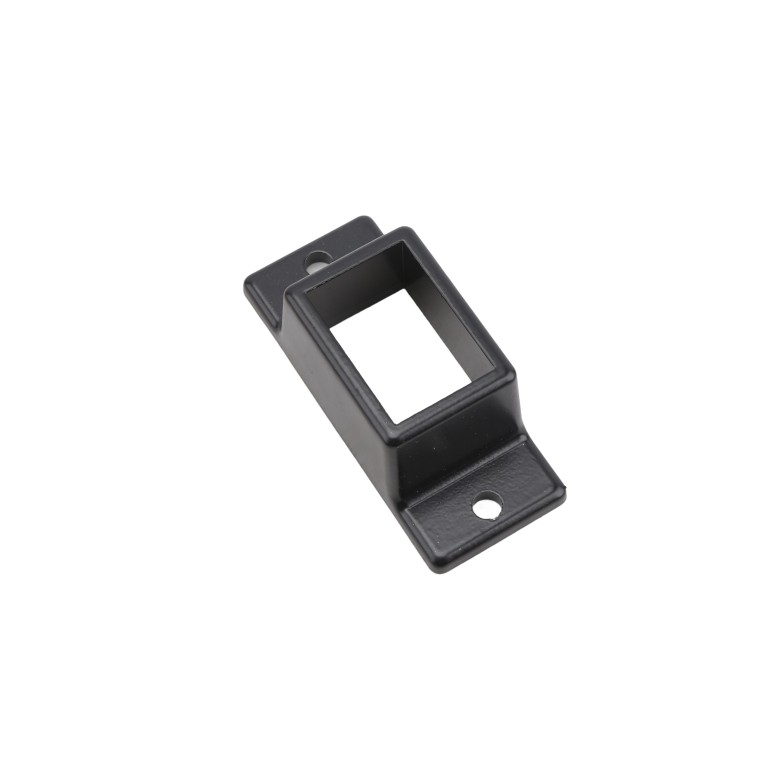 Ovation Aluminum Fence Stationary Wall Mount Bracket 1" W x 1 1/2" H
Eastern Ornamental Aluminum Industrial Fence
For those looking for heavy-duty parts for their aluminum fence, fence end rails and dual flange wall mount brackets will fit your industrial fence. The industrial square flange is made of high-quality die-cast aluminum powder-coated in black. The compatible swivel ball rail bracket is also created from die-cast aluminum and has a swivel ball motion for a complete 180-degree motion if your fence is installed on a slope.
Benefits Of Adding New Aluminum Rail Ends And Wall Mounts To Your Eastern Ornamental Fence
When adding new fittings to a fence, you'll increase:
The strength of your fence
The longevity of an aluminum fence
Savings – since you will not need to replace entire parts of the fence if you use fittings
Replacing Fittings On Your Aluminum Fence
When replacing parts on your Eastern Ornamental fence, you'll want to find high-quality brackets and flanges that are made of die-cast aluminum. Make sure you are purchasing the correct size and finish before purchasing.
Looking for other replacement parts for a different aluminum fence? View all our replacement part articles below:
Replacement Parts Articles