Jerith Aluminum Fence Replacement Parts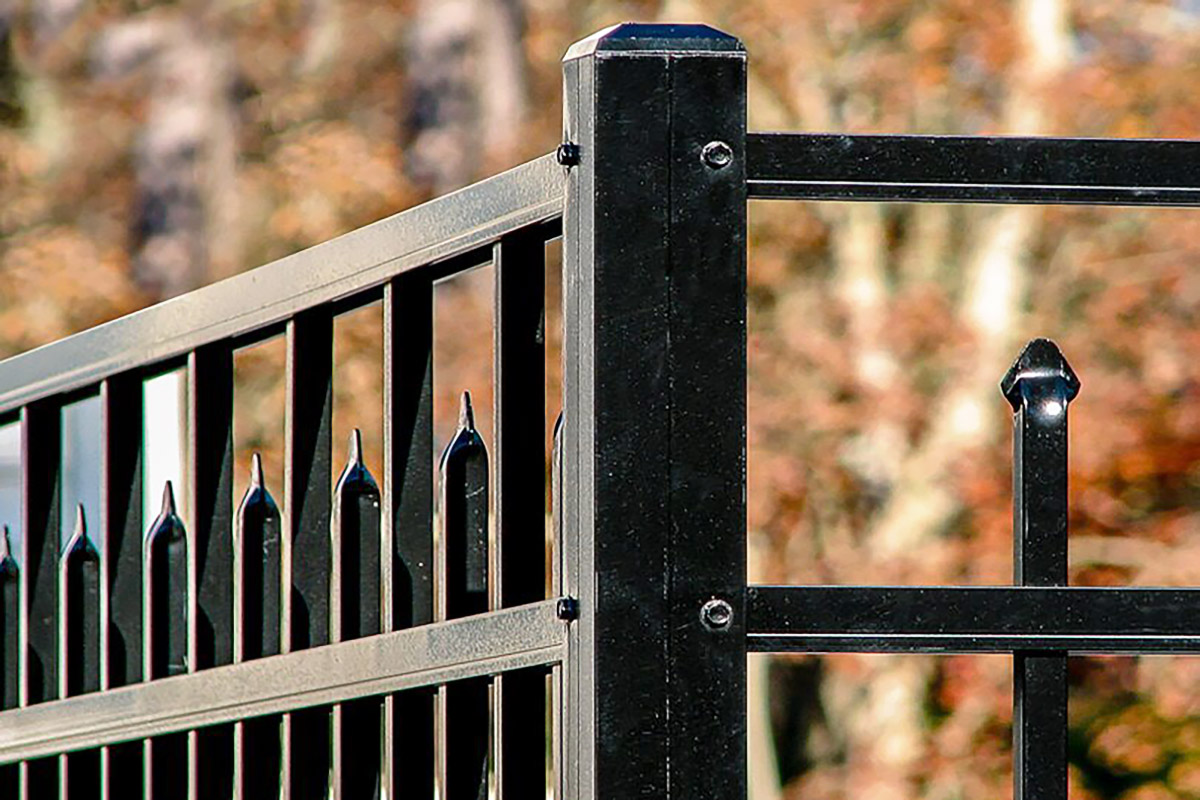 Over time, the quality of your fence and fence accessories may experience normal wear and tear from use and exposure to harsh elements. Regular aluminum fence maintenance requires touch-up paint, brackets, hinges, latches, post caps, and hardware. Finding quality Jerith Fence Replacement Parts that match the same high quality as your Jerith Fence can sometimes be challenging. At QuickShipAluminumFence.com, we offer a wide range of Jerith replacement parts and other replacement parts from high-quality, compatible manufacturers. We stock all of the parts you'll need to maintain, repair, or upgrade your Jerith Aluminum Fence.
Our Jerith Gate Hinges feature black powder-coated aluminum bodies with automatic self-closing tension-loaded cores. They are perfect for both residential and commercial aluminum fence installations and can be installed on any new or existing aluminum fence and gate system. The sleek design pairs perfectly with the entire Jerith Aluminum Fences and Gates product line. These hinges provide an extra measure of strength and durability to your Jerith Fence.
Jerith Aluminum Fence Replacement Rail Ends are the perfect solution for fixing, replacing, and attaching Jerith Aluminum Railing to walls, decks, or other surfaces. We offer a range of designs, sizes, and styles of Jerith-compatible Rail Ends. This includes Stationary Rail Ends, Adjustable Rail Ends, and Fully Adjustable Rail Ends designed to meet whatever specific railing attachment needs are required for your Jerith Fence.
Jerith Gate Latches ensures the secure closure and reliable operation of Jerith Aluminum Fence Gates. The latches provide a visible lock indicator, a re-keyable security lock, and vertical/horizontal alignment indicators. At the same time, the universal latching mechanism works with our Jerith Replacement Gate Latches, meaning selecting the ideal gate latch to fit your application's demands will be a breeze!
Finding the right post cap puts a stylish, attractive, and highly functional finish on a Jerith fencing project. Regardless of the application, aluminum fence post caps serve a vital function by keeping moisture and other debris from getting inside a post, helping ensure a long-lasting fencing system that also looks great. This Jerith-compatible post cap has a smooth, black, powder-coated exterior that boasts rust, corrosion, and weather resistance for excellent outdoor performance.
Jerith Aluminum Fence Stainless Steel Replacement Screws are an integral part of any fence and are most commonly used for attaching the horizontal rails of each section to the fence posts, as well as for wall mount castings for both residential or industrial fencing. These Aluminum Fence #10 x 1" Stainless Steel Screws With Black Screw Heads are genuine OEM replacement Jerith Aluminum Fence screws.
---
Maintaining and keeping up with any type of Jerith Aluminum Fencing can seem like a daunting task. However, our Jerith Fence Replacement Parts and Accessories are sure to provide durability, ease of installation, and most importantly, low cost. Now that you know the most common parts and accessories for Jerith Aluminum Fencing, Reach Out To Our Sales Team to learn more about our complete aluminum fencing parts, accessories, and hardware!
Contact Us